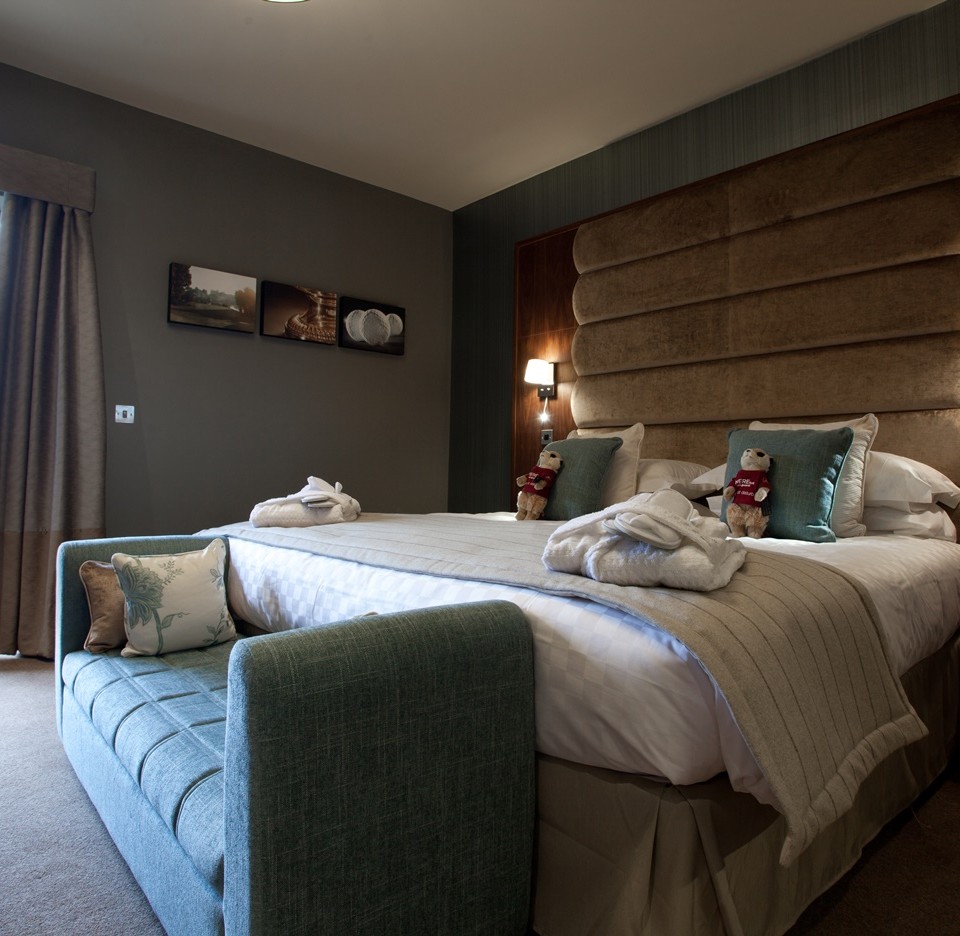 Guest Rooms
A LOVELY NIGHT'S SLEEP
Whether you're visiting for a weekend break or an overnight stay, The Mere offers a range of rooms with amenities to ensure a cosy night's sleep.
To ensure you have access to all mod cons and entertainment at your fingertips, all rooms are equipped with flat screen televisions, SKY TV and Wi-Fi . You can also take advantage of movie packages and enjoy unlimited films during your stay.
We also provide cuddly MEREkats to keep our mini guests entertained, our grown-ups cosy and our King-sized Hypnos beds warm...
List All Rooms
Compare Rooms
Club Room (Double)

CLUB ROOM (DOUBLE)

A cosy room for two, some with a courtyard view.

A night spent in one of our Club Double rooms will ensure you wake refreshed, relaxed and ready for your delicious Full English Breakfast.

Key Features

Super King-Sized Bed
Emperor-Sized Bed
Twin Beds
Bathrobe & Slippers
Tea & Coffee Making Facilities
Complimentary Bath Products
Courtyard View
Countryside View
Lake View
Secure Wi-Fi
Free-Standing Bath (certain suites only)
Shower Over Bath
SKY TV
Free Movie Packages
Seperate Lounge
Dining Area
Nespresso Machine
Kitchenette

Club Room (Twin)

Club Room (Twin)

Extra comfy beds, some with a courtyard view.

Whether you're visiting with family or friends, our Club Twin rooms offer a cosy night's stay for two. Extra comfy Hypnos beds and super soft pillows make for a sound night's sleep.

Key Features

Super King-Sized Bed
Emperor-Sized Bed
Twin Beds
Bathrobe & Slippers
Tea & Coffee Making Facilities
Complimentary Bath Products
Courtyard View
Countryside View
Lake View
Secure Wi-Fi
Free-Standing Bath (certain suites only)
Shower Over Bath
SKY TV
Free Movie Packages
Seperate Lounge
Dining Area
Nespresso Machine
Kitchenette

Mere Room (Double)

Mere Room (Double)

Enjoy a glimpse of the great outdoors, with a Mere Double room. Some of our rooms overlook the tennis courts and others open onto a shared terrace.

Cosy up on a Super King-sized Hypnos bed, with fluffy bathrobes, soft slippers and the option of a MERE Movie package to enjoy unlimited films throughout your stay.

Key Features

Super King-Sized Bed
Emperor-Sized Bed
Twin Beds
Bathrobe & Slippers
Tea & Coffee Making Facilities
Complimentary Bath Products
Courtyard View
Countryside View
Lake View
Secure Wi-Fi
Free-Standing Bath (certain suites only)
Shower Over Bath
SKY TV
Free Movie Packages
Seperate Lounge
Dining Area
Nespresso Machine
Kitchenette

Mere Room (Twin)

Mere Room (Twin)

Perfect for a twosome, our Mere Twin rooms are spacious and comfortable. Some of our rooms overlook the tennis courts and others open onto a shared terrace.

Melt into the mattress of a super soft Hypnos bed, with fluffy pillows and complimentary bathrobes & slippers to keep you cosy.

Key Features

Super King-Sized Bed
Emperor-Sized Bed
Twin Beds
Bathrobe & Slippers
Tea & Coffee Making Facilities
Complimentary Bath Products
Courtyard View
Countryside View
Lake View
Secure Wi-Fi
Free-Standing Bath (certain suites only)
Shower Over Bath
SKY TV
Free Movie Packages
Seperate Lounge
Dining Area
Nespresso Machine
Kitchenette

Mere Lake View (Double)

Mere Lake View (Double)

Wake up to a morning view of the Mere Lake with a Lake-View room nestled beside our Championship golf course.

A comfy Super King sized Hypnos bed will ensure you sleep soundly, whilst a bathroom stocked with luxury Molton Brown products will ensure you wake up refreshed.

Key Features

Super King-Sized Bed
Emperor-Sized Bed
Twin Beds
Bathrobe & Slippers
Tea & Coffee Making Facilities
Complimentary Bath Products
Courtyard View
Countryside View
Lake View
Secure Wi-Fi
Free-Standing Bath (certain suites only)
Shower Over Bath
SKY TV
Free Movie Packages
Seperate Lounge
Dining Area
Nespresso Machine
Kitchenette

Mere Lake View (Twin)

Mere Lake View (Twin)

Enjoy a picture perfect view of the Mere Lake with a Lake-View room nestled beside our Championship golf course.

Perfect for a twosome, our Lake-View Twin rooms are spacious, ultra comfortable and offer a luxurious night's sleep.

Key Features

Super King-Sized Bed
Emperor-Sized Bed
Twin Beds
Bathrobe & Slippers
Tea & Coffee Making Facilities
Complimentary Bath Products
Courtyard View
Countryside View
Lake View
Secure Wi-Fi
Free-Standing Bath (certain suites only)
Shower Over Bath
SKY TV
Free Movie Packages
Seperate Lounge
Dining Area
Nespresso Machine
Kitchenette
Room size

Super King-Sized Bed

Emperor-Sized Bed

Twin Beds

Bathrobe & Slippers

Tea & Coffee Making Facilities

Complimentary Bath Products

Courtyard View

Countryside View

Lake View

Secure Wi-Fi

Free-Standing Bath (certain suites only)

Shower Over Bath

SKY TV

Free Movie Packages

Seperate Lounge

Dining Area

Nespresso Machine

Kitchenette