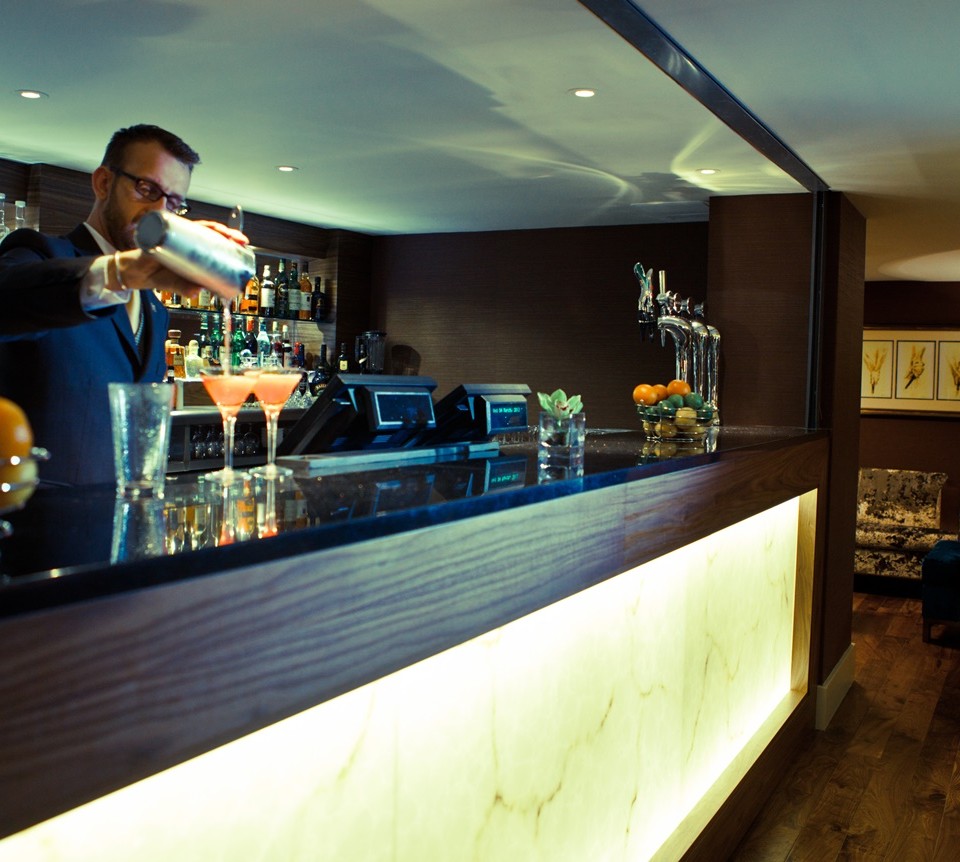 DO YOU HAVE A PASSION FOR SERVICE?
JOIN THE TEAM
From serving up perfection in Browns Restaurant, to organising epic events, cooking up creations in the kitchen, or greeting our guests on arrival, there's a role to suit you.
We'd love to meet those that share our passion for world class hospitality, love to be a part of a team, and enjoy the rewards that come from working at a leading luxury resort!
In return, we offer:
• Competitive salaries
• Free meals whilst on duty
• Free parking on site
• An Employee Of The Month award scheme
• A childcare voucher scheme
• 20% discount on all dining outlets
• 20% discount on Spa treatments
• 10% discount on Spa products
• Free use of the Golf course & driving range
• Discounts on hotel accommodation
• Skills training and NVQs
Take a look at our latest vacancies below...
Work With Us
Our Open Positions
Background

A brilliant opportunity has arisen at the award winning Mere Golf Resort & Spa for a Housekeeping Assistant to join our Housekeeping team in Knutsford. £8 an hour, plus excellent employee discount, benefits and free parking.

As a Housekeeping Assistant you will take pride in your work and be truly passionate about delivering the highest level of service. If you work well as part of a team, in a fast paced environment and like to maintain high standards, you may well be suited to become our next Housekeeping Assistant. Reporting into the Housekeeping Supervisor, as a Housekeeping Assistant you will have a vital role in preparing rooms for guest arrivals and creating that 'Mere Moment'.

The Mere Golf Resort & Spa is a destination for business and pleasure, with 81 bedrooms, expansive wedding and event spaces, Championship golf and an award-winning spa, set in the heart of the Cheshire countryside. The 150 acre estate offers premium hospitality, and a personal guest experience. We place our people at the heart of everything we do. A comprehensive training and development program is available to all, and our continued growth means we can provide excellent long-term career opportunities.

The Role

To create a customer focused environment which reflects full, flexible co-operation within the business.
To maintain levels of cleanliness and styling that consistently exceeds the expectations of our guests.
To be responsible for all assigned keys.
To ensure that all lost property is handed to the housekeeper, ensuring it is labelled correctly.
To report any matters of security e.g. Missing items etc.
To take ownership of productivity while on shift, taking responsibility for extra duties e.g. spring cleaning, replacing equipment such as pillows quilts etc.
To be responsible for the preparation and tidiness of own trolley and the general cleanliness of maid service floor, e.g. clearing linen trolleys and room service trays.

The Ideal Candidate

Have experience in a similar position
Be passionate about hospitality
Adopt The Mere values by being passionate about your role, and promoting a culture of professionalism, consistency and one team
Always be you – we love you for the individual you are. Be yourself. We like you that way
Become part of Team Mere. The all-conquering collective of supportive individuals dedicated to consistent delivery of genuinely great service to all

FOOD AND BEVERAGE ASSISTANT

Background

A fantastic opportunity has arisen at the award winning Mere Golf Resort & Spa for a Food and Beverage Assistant to join our Food and Beverage team in Knutsford with a competitive Salary, plus excellent employee discount, benefits and free parking.

As a Food and Beverage Assistant, you will be a highly organized and pre-emptive character who is truly passionate about hospitality and customer service. From a warm and friendly welcome, to a detailed description of menu options, you'll be attentive and engaging at all times. Reporting to the Food and Beverage Manager you will play a vital role in delivering the highest standard of customer care, and ensuring each guest feels truly indulged by their experience.

The Mere Golf Resort & Spa is a destination for business and pleasure, with 81 bedrooms, expansive wedding and event spaces, Championship Golf and an award-winning spa, set in the heart of the Cheshire countryside. Whether it's a corporate event, an exquisite meal in our two AA rosettes restaurant or a spectacular wedding celebration, we're passionate about world class hospitality and a luxury experience. The 150 acre estate offers premium hospitality, and a personal guest experience. We place our people at the heart of everything we do. A comprehensive training and development program is available to all, and our continued growth means we can provide excellent long-term career opportunities.

The Role

To create a customer focused environment which reflects full, flexible co-operation within the business.
To serve all food and beverage to the guest in accordance to the brand SOPS
Clear and set tables as required
To maintain the standards, safety and quality of service as set out in the department SOP.
Ensure that the restaurant is set up and broken down to the correct company standards at all times.
To maintain a good working knowledge of all the menus in the department. i.e. Breakfast, Lunch, Evening and Wine and Bar Menus.
Ensure food and wine product knowledge is up to date and use this knowledge to upsell at every opportunity.
Take orders and ensure all documentation and monetary transactions are recorded accurately.
Ensure that all areas are adequately stocked and able to meet customer and colleague requirements.
Maintain clean and tidy public areas at all times.

The Ideal Candidate

Previous experience in a restaurant or banqueting role
Strong communication skills
Proven experience of delivering high level customer services
Ability to work both individually and as a part of a team
Confident and personable approach
Adopt The Mere values by being passionate about your role, and promoting a culture of professionalism, consistency and one team
Always be you – we love you for the individual you are. Be yourself. We like you that way
Become part of Team Mere. The all-conquering collective of supportive individuals dedicated to consistent delivery of genuinely great service to all

Background

An exciting opportunity has arisen at the award winning Mere Golf Resort & Spa for a Spa Therapist to join our Spa and Health Club team in Knutsford. Competitive salary, plus excellent employee discount, benefits and free parking.

As a Spa Therapist you will be enthusiastic, have a bright personality and thrive in a fast paced environment. If you work well as part of a team, have a passion for delivering truly exceptional customer service and have great communication skills, you may well be suited to this role. Reporting to the Spa and Health Club Manager, as a Spa Therapist you will provide sensational treatments, and play a vital role in ensuring the smooth running of service delivered to our guests.

The Mere Golf Resort & Spa is a destination for business and pleasure, with 81 bedrooms, expansive wedding and event spaces, Championship golf and an award-winning 5 bubble spa, set in the heart of the Cheshire countryside. Whether it's a corporate event, an exquisite meal in our two AA rosettes restaurant or a spectacular wedding celebration, we're passionate about world class hospitality and a luxury experience. The 150 acre estate offers premium hospitality, and a personal guest experience. We place our people at the heart of everything we do. A comprehensive training and development program is available to all, and our continued growth means we can provide excellent long-term career opportunities.

The Role

Carry out a range of treatments, including massages, facials, beauty treatments and alternative therapies following extensive training, according to SOP's.
Ensure Spa meets SOP framework at all times
Report on daily sales and mark details in office.
Retail to guests in the boutique.
Complete daily work sheets and check sheets as required.
Manage stock accordingly including laundry management.
Help create team environment by supporting colleagues as and when required.
To adhere to the company standard of dress code and behaviour at all times as indicated in the policy manual
To be professional and courteous in all dealings with guests, members and staff.
To attend training courses that may be identified to enhance your skills to perform your duties and develop your experience
To attend meetings as may be required.

The Ideal Candidate

Have experience in a similar role
Have Level 3 Beauty or Spa qualification
Be a Team Player
Have a Professional, can-do attitude
Adopt The Mere values by being passionate about your role, and promoting a culture of professionalism, consistency and one team
Always be you – we love you for the individual you are. Be yourself. We like you that way
Become part of Team Mere. The all-conquering collective of supportive individuals dedicated to consistent delivery of genuinely great service to all

Background

A fantastic opportunity has arisen at the award winning Mere Golf Resort & Spa for a Food and Beverage (F&B) Supervisor to join our Food and Beverage team in Knutsford. Competitive salary based on experience, with excellent employee benefits, discounts and free parking.

Are you driven, enthusiastic and a great team leader? We are currently looking for an experienced F&B Supervisor to join our Food and Beverage Team. If you have exceptional standards in delivery of both product and service, have a great passion for hospitality and high standards you may well be suited.

The Mere Golf Resort & Spa is a destination for business and pleasure, with 81 bedrooms, expansive wedding and event spaces, Championship golf and an award-winning spa, set in the heart of the Cheshire countryside. Our luxury conference and event suites cater for up to 550 guests. Whether it's a corporate event, a meal for two in our two AA rosettes restaurant or a spectacular wedding celebration, we're passionate about world class hospitality and a luxury experience. The 150 acre estate offers premium hospitality, and a personal guest experience. We place our people at the heart of everything we do. A comprehensive training and development program is available to all, and our continued growth means we can provide excellent long-term career opportunities.

The Role

To create a customer focused environment which reflects full, flexible co-operation within the business
To serve all food and beverage to the guest in accordance to the brand SOPS
To maintain the standards, safety and quality of service as set out in the department SOP
To ensure all team members are trained and work to the correct standards
To have an understanding of the wage budget and targets set
Assist the Bar Manager, Maitre'D and Head Chef in developing the teams standards
Clear and set tables as required
Ensure all daily tasks are completed and recorded in the correct manner
To maintain a good working knowledge of all the menus in the department
Ensure food and wine product knowledge is up to date and use this knowledge to upsell at every opportunity
Take orders and ensure all documentation and monetary transactions are recorded accurately
Ensure that all areas are adequately stocked and able to meet customer and colleague requirements

The Ideal Candidate

Have experience in a similar role
Have a strong F&B Background
Possess strong leadership skills
Be passionate about hospitality
Adopt The Mere values by being passionate about your role, and promoting a culture of professionalism, consistency and one team
Always be you – we love you for the individual you are. Be yourself. We like you that way
Become part of Team Mere. The all-conquering collective of supportive individuals dedicated to consistent delivery of genuinely great service to all

Background

We currently have an exciting opportunity for a dedicated Spa Assistant at our award winning 5 Bubble Spa at The Mere Golf Resort & Spa in Knutsford. Competitive salary based on experience, plus excellent employee discount, benefits and free parking.

As a Spa Assistant you will have a personable and welcoming demeanour and will be attentive and detail orientated. If you work well as part of a team, thrive in a fast paced environment and are uncompromising when it comes to standards you may well be suited to this role. Reporting to the Head Therapist you will have a vital role in ensuring an ambience of warmth in the spa through consistent excellent services.

The Mere Golf Resort & Spa is a destination for business and pleasure, with 81 bedrooms, expansive wedding and event spaces, Championship golf and an award-winning 5 bubble spa, set in the heart of the Cheshire countryside. Whether it's a corporate event, an exquisite meal in our two AA rosettes restaurant or a spectacular wedding celebration, we're passionate about world class hospitality and a luxury experience. The 150 acre estate offers premium hospitality, and a personal guest experience. We place our people at the heart of everything we do. A comprehensive training and development program is available to all, and our continued growth means we can provide excellent long-term career opportunities.

The Role

Carry out basic treatments as required, according to SOP's.
Ensure the Spa meets SOP framework at all times.
Help therapists during change over to set up rooms and treatments.
Retail to guests in the boutique.
Complete daily work sheets and check sheets as required.
Manage stock accordingly including laundry management.

The Ideal Candidate

Have experience in a similar role
Be a Team Player
Have a Professional, can-do attitude
Adopt The Mere values by being passionate about your role, and promoting a culture of professionalism, consistency and one team
Always be you – we love you for the individual you are. Be yourself. We like you that way
Become part of Team Mere. The all-conquering collective of supportive individuals dedicated to consistent delivery of genuinely great service to all.

Background

A wonderful opportunity has arisen at the award winning Mere Golf Resort & Spa for a Bar person to join our Food and Beverage team in Knutsford. Competitive salary, plus excellent employee discount, benefits and free parking.

As a Bar Person you will be enthusiastic, have strong communication skills and thrive in a fast paced environment. If you work well as part of a team, have a key eye for detail and have an engaging, friendly personality you may well be suited to this role. Reporting to the Assistant Manager, a Bar Person will ensure that guests expectations are exceeded and be uncompromising on standards and delivery of service.

The Mere Golf Resort & Spa is a destination for business and pleasure, with 81 bedrooms, expansive wedding and event spaces, Championship golf and an award-winning spa, set in the heart of the Cheshire countryside. Whether it's a corporate event, an exquisite meal in our two AA rosettes restaurant or a spectacular wedding celebration, we're passionate about world class hospitality and a luxury experience. The 150 acre estate offers premium hospitality, and a personal guest experience. We place our people at the heart of everything we do. A comprehensive training and development program is available to all, and our continued growth means we can provide excellent long-term career opportunities.

The Role

Read and understand the business sheet and bar communication book, checking with the supervisor or duty manager for additional details.
Ensure bars are ready for service at appropriate time, with float in till.
Ensure the bar is adequately stocked and all appropriate beverages are available to meet the guests' needs and expectations, and that these are full replenished at shift changeover.
Ensure the bar is well stocked with non-consumable e.g. glassware, crockery, napkins and that these are fully replenished at shift changeover.
Ensure the bar is ready for service at the appropriate time with the correct items e.g. ice, lemon, oranges.
Maintain a clean and safe environment in the bar in accordance with the regular cleaning rota.
To be aware of and promote and upsell the full range of products and services on offer to our guests.
To act at all times in accordance with, and enforce where necessary, bars policy, licensing laws and health and safety regulations.
Ensure correct charges are made and payment received.
To be fully conversant with the preparation of all wine lists and bar menu items.
Ensure that when the bar area is not in use, the bar is securely locked and keys are handed in to the line manager or duty manager

The Ideal Candidate

Have training or experience in Bartending
Possess extensive knowledge of drink mixing and Garnish
Adopt The Mere values by being passionate about your role, and promoting a culture of professionalism, consistency and one team
Always be you – we love you for the individual you are. Be yourself. We like you that way
Become part of Team Mere. The all-conquering collective of supportive individuals dedicated to consistent delivery of genuinely great service to all

Background

A fantastic opportunity has arisen for a part-time Night Porter to join The Mere Golf Resort and Spa in Knutsford. Competitive salary based on experience, plus excellent employee discount, benefits and free parking.

As a Night Porter you will be responsible for assisting with the preparing and setting up of the suites and boardrooms. If you are reliable, work well as part of a team and can use your own initiative you may be suited to become our next Night Porter. Reporting to the C&B Assistant Manager as a Night Porter you will play a vital role in ensuring the overall guest experience of events and functions run smoothly.

The Mere Golf Resort & Spa is a destination for business and pleasure, with 81 bedrooms, expansive wedding and event spaces, Championship golf and an award-winning spa, set in the heart of the Cheshire countryside. Our luxury conference and event suites cater for up to 550 guests. Whether it's a corporate event, a meal for two in our two AA rosettes restaurant or a spectacular wedding celebration, we're passionate about world class hospitality and a luxury experience. The 150 acre estate offers premium hospitality, and a personal guest experience. We place our people at the heart of everything we do. A comprehensive training and development program is available to all, and our continued growth means we can provide excellent long-term career opportunities.

The Role

Ensure all rooms are set in advance, in accordance with the function sheet.
To ensure all rooms are set to the highest standard required by the company.
To ensure that plans are put into rooms, so they can be set up by the relevant departments.
Liaise with the Conference and Banqueting Management team, Events office and Managers of the day, regarding any changes to numbers or room layouts.
To ensure that correct care is taken in usage and storage of tables, chairs, audio-visual equipment, flip charts, screens etc.
To ensure the outside of the main building is clean and tidy from debris.
To report to Management, any problem areas which may affect your working environment and the standards we wish to achieve.

The Ideal Candidate

Have experience in a similar position
Be passionate about hospitality
Adopt The Mere values by being passionate about your role, and promoting a culture of professionalism, consistency and one team
Always be you – we love you for the individual you are. Be yourself. We like you that way
Become part of Team Mere. The all-conquering collective of supportive individuals dedicated to consistent delivery of genuinely great service to all

Background

An exciting opportunity has arisen at the award winning Mere Golf Resort & Spa for a Host to join our food and beverage team in our 2 AA rosettes restaurant Browns, in Knutsford. Competitive salary, excellent employee discount and free parking.

As a Host you will be enthusiastic, have strong skills in communication and have an energetic and approachable manner. You will be the first point of call for our guests and therefore must be engaging and genuinely interested in consistently providing excellent customer service and exceeding guest's expectations. Reporting to the Restaurant Manager you will have a vital role in ensuring our guests have a pleasant dining experience and be passionate and knowledgeable about our menu.

The Mere Golf Resort & Spa is a destination for business and pleasure, with 81 bedrooms, expansive wedding and event spaces, Championship golf and an award-winning spa, set in the heart of the Cheshire countryside. Our luxury conference and event suites cater for up to 550 guests. Whether it's a corporate event, a meal for two in our two AA rosettes restaurant or a spectacular wedding celebration, we're passionate about world class hospitality and a luxury experience. The 150 acre estate offers premium hospitality, and a personal guest experience. As a business employees are placed at the heart of everything. Therefore a comprehensive training and development program is available to everyone, and as a result of our growth excellent long-term career opportunities are at the forefront of every position we recruit.

The Role

To serve all food and beverage to the guest in accordance to the brand SOPs.
To meet and greet all guests in accordance with SOP's.
To manage booking systems to ensure booking flow correctly.
To build key relationships with members & guests on a daily basis.
To be the 'Face' of the outlet areas.
To ensure the lobby area guests are served and looked after according to SOP's.
Clear and set tables as required.
To comply with health and safety rules that all corridors and service rooms are cleared of room service trays.
To ensure public areas are kept clean and tidy at all times.
To maintain a good working knowledge of all the menu within the department ie Breakfast, evening, wine & bar menus.
Ensure food and wine product knowledge is up to date and to use this knowledge to upsell at every opportunity.
To maintain a good working knowledge of the facilities within The Mere Golf Resort and Spa, and its history.
To ensure that the restaurant is set up and broken down to the correct company standards at all times.
Take orders for both food and drink, and ensure all documentation and transactions are recorded accurately.
Take payments and ensure all monies handled are reconciled at the end of the shift.

The Ideal Candidate

Will have experience of working within a 2 AA Rosettes restaurant
Will have strong communication skills
Will have an understanding of Opera and Jonas operating systems
Adopt The Mere values by being passionate about your role, and promoting a culture of professionalism, consistency and one team
Always be you – we love you for the individual you are. Be yourself. We like you that way
Become part of Team Mere. The all-conquering collective of supportive individuals dedicated to consistent delivery of genuinely great service to all

Background

The Mere Golf Resort & Spa is seeking an Assistant Manager to help lead our Conference & Banqueting Team, in Knutsford. Competitive salary based on experience, excellent employee discount and free parking.

As an Assistant Manager, you will have a genuine and approachable manner and the ability to establish rapport with both guests and team members. You will be capable of supervising the floor team and be uncompromising when it comes to delivering high standards. You will have the ability to work well under pressure, be able to multitask and thrive on working in a fast paced and energetic environment. Reporting to the Conference and Banqueting Manager, you will have a vital role in ensuring consistency in both product and service and be passionate and knowledgeable about our offering to our guests.

The Mere Golf Resort & Spa is a destination for business and pleasure, with 81 bedrooms, expansive wedding and event spaces, Championship golf and an award-winning spa, set in the heart of the Cheshire countryside. Our luxury conference and event suites cater for up to 550 guests. Whether it's a corporate event, a meal for two in our two AA rosettes restaurant or a spectacular wedding celebration, we're passionate about world class hospitality and a luxury experience. The 150 acre estate offers premium hospitality, and a personal guest experience. As a business employees are placed at the heart of everything. Therefore a comprehensive training and development program is available to everyone, and as a result of our growth excellent long-term career opportunities are at the forefront of every position we recruit.

The Role

Work with Heads of Department, Operations Manager and Hotel food and Beverage Managers to set the standards of service for your department and constantly monitor to ensure consistency.
To ensure that the service offered by all team members is personal and memorable. That guests needs are anticipated and requests followed up. Build relationships with guests, ensuring that they want to return to The Mere Golf Resort and Spa.
Have a working knowledge of the hotel system such as Opera and Jonas.
Demonstrate excellent standards to the team and train and develop as required to ensure all standards are adhered to.
Work with the sales team to ensure that guest service levels and expectations are maximised. Ensure all functions maintain a first class and positive visual impact.
Act as an ambassador for The Mere Golf Resort and Spa brand at all times and to ensure values are upheld to both external and internal contacts, through appropriate behaviour and performance.
Assist the Conference and Banqueting Manager with team appraisals, training plans and objectives, by carrying out training and coordinating training delivered by others.
To work with the Conference and Banqueting Manager to assign responsibilities to staff members, implementing multi-tasking and periodic performance checks.
Attend and contribute to all departmental hotel meetings and training as scheduled and requested.
Maximise revenue and profitability of the Resort.
Pass on any possible leads to Sales Department, which could develop into future business.
Instruct and train employees on correct handling and storage of hotel equipment to minimise breakage and misuse.

The Ideal Candidate

Have experience in a similar role and have a strong background in Food and Beverage
Be passionate about hospitality and customer service
Demonstrate excellent standards and team member management
Be commercially aware
Driven and ambitious to inspire the team to consistently deliver and exceed service standards

Background

A wonderful opportunity has arisen at the award winning Mere Golf Resort & Spa for a Commis Chef to join our brigade in Knutsford. Competitive salary, plus excellent employee discount, benefits and free parking.

If you work well as part of a team, are a keen learner who really wants to develop their skills and work their way up the chef ladder you well may be suited to become our next Commis Chef. Reporting to the Executive Head Chef, you will have a vital role in ensuring hygiene standards within the kitchen are of the highest standard. You will also have a key role in making sure our guests have the very best experience and assist in creating that 'Mere Moment'.

The Mere Golf Resort & Spa is a destination for business and pleasure, with 81 bedrooms, expansive wedding and event spaces, Championship golf and an award-winning spa, set in the heart of the Cheshire countryside. The 150 acre estate offers premium hospitality, and a personal guest experience. We place our people at the heart of everything we do. A comprehensive training and development program is available to all, and our continued growth means we can provide excellent long-term career opportunities.

The Role

To consistently assist in providing and maintaining the highest of food preparation & presentation.
To work on and accept direction in the relevant kitchen sections.
Control wastage and portion size as instructed by senior members and dish specifications.
To prepare and execute Mis en place for the future business
Meet and discuss with the senior chefs the daily and future business requirements.
Check, record, and report temperatures of fridges and freezers in line with the SOP.
To actively participate in menu development, planning and production.

The Ideal Candidate

Have experience in a similar role or working in a minimum 1 AA rosette environment
Be a keen learner
Be a Team player
Adopt The Mere values by being passionate about your role, and promoting a culture of professionalism, consistency and one team
Always be you – we love you for the individual you are. Be yourself. We like you that way
Become part of Team Mere. The all-conquering collective of supportive individuals dedicated to consistent delivery of genuinely great service to all

Background

A fantastic opportunity has arisen at the award winning Mere Golf Resort & Spa for a Golf Service Assistant to join our Golf Services team in Knutsford. Competitive salary, plus excellent employee discount, benefits and free parking.

As a Golf Services Assistant you will have great communication skills, a personable approach and be passionate about golf. If you work well as part of a team, and consistently deliver exceptional customer service you may well be suited to this role. Reporting to the Golf Operations Manager, you will have a key role in ensuring all golf related aspects of our guest's journey run smoothly and exceed expectations at all times.

The Mere Golf Resort & Spa is a destination for business and pleasure, with 81 bedrooms, expansive wedding and event spaces, Championship golf and an award-winning spa, set in the heart of the Cheshire countryside. Our luxury conference and event suites cater for up to 550 guests. Whether it's a corporate event, a meal for two in our two AA rosettes restaurant or a spectacular wedding celebration, we're passionate about world class hospitality and a luxury experience. The 150 acre estate offers premium hospitality, and a personal guest experience. We place our people at the heart of everything we do. A comprehensive training and development program is available to all, and our continued growth means we can provide excellent long-term career opportunities.

Our 18 hole, 6,882 -yard, par-71 course was created from 150 acres of Cheshire parkland in 1934. Today, the Championship course holds the reputation as one of the best maintained and highest quality golf courses in the North of England.

The Role

To participate in the preparation, setting up and maintenance of the golf course and areas belonging to The Mere Golf Resort & Spa.
Understand, review and continually improve the guest journey through associated golf areas.
To ensure that the golf shop and associated areas are set up to the standards required for daily business.
To liaise with the Golf Operations Manager and Duty Manager to have full knowledge and understanding of the business for the day/week.
To ensure the golf tee time system to ensure maximum sales and product awareness.
To seek to attract new members whilst making every effort to maintain existing membership levels.
To maintain the standards of presentation and cleanliness of the golf shop at all times.

The Ideal Candidate

Have worked in a similar role
Be passionate about both hospitality and Golf
Adopt The Mere values by being passionate about your role, and promoting a culture of professionalism, consistency and one team
Always be you – we love you for the individual you are. Be yourself. We like you that way
Become part of Team Mere. The all-conquering collective of supportive individuals dedicated to consistent delivery of genuinely great service to all

Background

A great opportunity has arisen at the award winning Mere Golf Resort & Spa for a Kitchen Porter to join our brigade in Knutsford. Competitive salary, plus excellent employee discount, benefits and free parking.

As a Kitchen Porter you will be hardworking, reliable and thrive in a fast paced environment. If you work well as part of a team and are uncompromising when it comes to standards you may well be suited to this role. Reporting into the Kitchen Clerk you will have a vital role in ensuring the smooth delivery of service and maintaining the highest hygiene standards within the kitchen.

The Mere Golf Resort & Spa is a destination for business and pleasure, with an 81 bedroomed hotel, expansive wedding and event spaces, Championship golf and an award-winning spa, set in the heart of the Cheshire countryside. The 150 acre estate offers premium hospitality, and a personal guest experience. We place our people at the heart of everything we do. A comprehensive training and development program is available to all, and our continued growth means we can provide excellent long-term career opportunities.

The Role

To consistently provide a high standard of kitchen cleanliness
Clean dirty dishes and cookware
Adhere to the structured cleaning plan for the kitchen, yard and bin area and record such
Store deliveries in the correct area, rotating stock to ensure best practice
Record temperature of deliveries
To be aware of your legal requirements under COSHH, HACCP within the business
Safely storing chemicals under the COSHH guidelines
To perform basic tasks of food preparation

The Ideal Candidate

Will be passionate about hospitality and service delivery
Will be hardworking
Have a good work ethic
Adopt The Mere values by being passionate about your role, and promoting a culture of professionalism, consistency and one team
Always be you – we love you for the individual you are. Be yourself. We like you that way
Become part of Team Mere. The all-conquering collection of supportive individuals dedicated to consistent delivery of genuinely great service to all

Background

A great opportunity has arisen at the award winning Mere Golf Resort & Spa for a Pastry Commis Chef to join our brigade in Knutsford. Competitive salary, plus excellent employee discount, benefits and free parking.

As a Pastry Commis Chef you will be highly motivated, creative and a keen learner. If you work well as part of a team, thrive in a fast paced environment and have a passion for providing exceptional standards, then you may well be suited to this role. Reporting to the Head Pastry Chef, you will play a vital role in upholding the consistent high quality products and standards that we produce daily.

The Mere Golf Resort & Spa is a destination for business and pleasure, with an 81 bedroomed hotel, expansive wedding and event spaces, Championship golf and an award-winning spa, set in the heart of the Cheshire countryside. The 150 acre estate offers premium hospitality, and a personal guest experience. We place our people at the heart of everything we do. A comprehensive training and development program is available to all, and our continued growth means we can provide excellent long-term career opportunities.

The Role

To consistently assist in providing and maintaining the highest of food preparation & presentation
To work on and accept direction in the relevant kitchen sections
Control wastage and portion size as instructed by senior members and dish specifications
To prepare and execute Mis en place for the future business
Meet and discuss with the senior chefs the daily and future business requirements
Check, record, and report temperatures of fridges and freezers in line with the SOP
To actively participate in menu development, planning and production

The Ideal Candidate

Have experience in a similar role or working in a minimum 1 AA rosette environment
Have basic pastry knowledge and an eagerness to learn
Adopt The Mere values by being passionate about your role, and promoting a culture of professionalism, consistency and one team
Always be you – we love you for the individual you are. Be yourself. We like you that way
Become part of Team Mere. The all-conquering collection of supportive individuals dedicated to consistent delivery of genuinely great service to all

Background

We have an opportunity for a Junior Sous Chef to join our Brigade in Knutsford. Competitive salary depending on experience and free parking.

The Mere Golf Resort & Spa is a destination for business and pleasure, with an 81 bedroomed hotel, expansive wedding and event spaces, Championship golf and an award-winning spa, set in the heart of the Cheshire countryside. Our luxury conference and event suites cater for up to 550 guests. Whether it's a corporate event, a meal for two in our two AA rosette restaurant or a spectacular wedding celebration, we're passionate about world class hospitality and a luxury experience. The 150 acre estate offers premium hospitality, and a personal guest experience. As a business employees are placed at the heart of everything. Therefore a comprehensive training and development program is available to everyone, and as a result of our growth excellent long-term career opportunities are at the forefront of every position we recruit.

As our Junior Sous Chef you will thrive in a fast paced environment and be knowledgeable and passionate about food. You will work well as part of a team and possess leadership qualities, in order to delegate tasks within the kitchen to ensure smooth service delivery. Reporting into the Head Chef you will have a vital role in ensuring the highest of standards in both food preparation and hygiene are consistently met. You will also play a key part in ensuring guests expectations are exceeded on a daily basis

The Role

To lead the team in the absence of the Executive Chef/Head Chef and liaise with Events office, Managers & staff to co-ordinate daily events.
Review business sheets and communicate changes and updates to all the team and adjusting staff levels accordingly.
Oversee Kitchen Porters, ensuring best hygiene practices are adhered to.
Control wastage and portion size to aid with the profitability and budget compliance.
To attend all meetings required in the Exec Chefs/Head Chefs absence.
Delegate daily tasks to section leaders,
To take an active role in the daily operations of all food and beverage service areas.
Uphold MQS, monitor the training and development of staff within the brand SOP.
Communicate through the business structure up and down as necessary.
To consistently provide and maintain the highest standards of food preparation & presentation.
To be active in menu development, planning and production

The Ideal Candidate

Experience in a similar role
Possess leadership qualities
Adopt The Mere values by being passionate about your role, and promoting a culture of professionalism, consistency and one team
Always be you – we love you for the individual you are. Be yourself. We like you that way
Become part of Team Mere. The all-conquering collection of supportive individuals dedicated to consistent delivery of genuinely great service to all

Background

As our Sales Manager, you will proactively develop profitable revenue for The Mere Golf Resort and Spa through identifying and winning new business opportunities, maintaining and building long lasting client relationships whilst cultivating new ones. The role is ideal for an existing proactive sales person from either a hotel or M&E venue. You will be driven to succeed, have a bubbly and outgoing personality and exude confidence.

The Role

To maintain and develop relationships with existing customers and cultivate new clients
To identify potential high and trough periods and plan effectively for them
To follow up past users and secure repeat business
Continually developing new knowledge and skills to ensure best practice sales delivery
To provide timely and appropriate reporting to the Director of Sales as required
Identify, qualify and target new key accounts within a 20 mile radius of The Mere Golf Resort and Spa
To develop a rolling 3 months Business Development Plan for selected accounts to define opportunities
Meet with clients, to show round giving an informative tour of the resort and sell the facilities available
To attend regular departmental meetings to discuss new sales opportunities, review accounts and bookings
To ensure all enquiries and contacts are correctly recorded in Sales & Catering to capture relevant data
To carry out any phone or direct external sales activity as requested.
To assist in carrying out a range of marketing functions such as direct mail, email blasts, advertising, preparation or service delivery of banquets as may be requested from time to time

The Ideal Candidate

Passion for Sales is a must as are excellent communication skills
Being a team player and being driven by enthusiasm and personality
Experience within a hospitality background is beneficial

Casual Breakfast Assistant

Background

We have an opportunity for a Casual Breakfast Assistant to join our Food and Beverage Team in Knutsford. The Mere Golf Resort & Spa is a destination for business and pleasure, with an 81 bedroomed hotel, expansive wedding and event spaces, Championship golf and an award-winning spa, set in the heart of the Cheshire countryside. Our luxury conference and event suites cater for up to 550 guests. Whether it's a corporate event, a meal for two in our two AA rosette restaurant or a spectacular wedding celebration, we're passionate about world class hospitality and a luxury experience. The 150 acre estate offers premium hospitality, and a personal guest experience. As a business employees are placed at the heart of everything. Therefore a comprehensive training and development program is available to everyone, and as a result of our growth excellent long-term career opportunities are at the forefront of every position we recruit.

As our Casual Breakfast Assistant you will be hardworking reliable and personable. You will thrive in a fast paced environment and work well as part of a team. Reporting into the Breakfast Supervisor you will have a vital role in ensuring our guests have the very best start to their day by providing smooth service consistently. You will be uncompromising when it comes to standards and cleanliness and be accessible to guests at all times. You must be able to start from 5.30 and therefore our ideal candidate would be an early riser.

The Role

To serve all food and beverage to the guest in accordance to the brand SOPs.
Clear and set tables as required.
Ensure that all daily tasks are completed within time guidelines to ensure that all company business requirements are met and recorded in the correct manner.
To comply with health and safety rules that all corridors and service rooms are cleared of room service trays.
To ensure public areas are kept clean and tidy at all times.
To maintain a good working knowledge of the facilities within The Mere Golf Resort and Spa, and its history.
To ensure that the restaurant is set up and broken down to the correct company standards at all times.
Take orders for both food and drink, and ensure all documentation and transactions are recorded accurately.
Take payments and ensure all monies handled are reconciled at the end of the shift.
Ensure the areas that you are responsible for are adequately stocked and appropriately available to meet customer and colleague needs and requirements

The Ideal Candidate

Experience in a similar role, working for a luxury hotel or 2 AA rosette restaurant
Excellent communication skills
Must be able to start at 5.30am
Adopt The Mere values by being passionate about your role, and promoting a culture of professionalism, consistency and one team
Always be you – we love you for the individual you are. Be yourself. We like you that way
Become part of Team Mere. The all-conquering collective of supportive individuals dedicated to consistent delivery of genuinely great service to all